So, Vinnie (
_subsequential) made me a new layout, because I've had the old one for almost a year now (as long as I've had a lj) and it was old.. and plain.
So now it's all cool - with a Lodger theme - go check it out

My old friend's only banner clashed with it, so I needed a new one, and here it is.
But I definately could not get rid of the old one, so who says I'm not allowed to have two?
The one that clashes is just under the cut :P



1/03/2005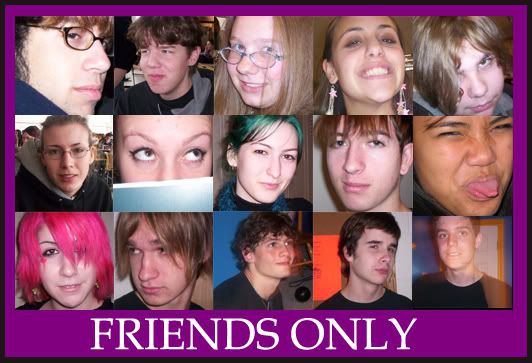 Yeah, so my journal has been friends only since like May, but I've never acctually had a banner or anything.
So here it is, all my c_wall lj friends (whom I love so so much)
I took all the pictures (except for Caity's)
and Vinnie put them together for me


So, you know how it goes. Comment if you want to be added, removed, or if you want to stay.
I'm doing a friends cut and I'm checking back in a week so if you didn't say you wanted to say, I'm taking you off.
So please comment and stay, because I love you <33



from left to right...


unspoken__word - Davey

shadowlurkerz - Sean

babysbluestar - Brianna

tbswm_star - Sarah

_subsequential - Vinnie

xfallenxangel7x - Ashley

p0lyesterbride - Theresa

teallipstick - Laura

drama_king41 - Andrew

syidrmlnd - Caity

bladenodarkness - Sara

poopoopuff - Chris

aiglosgg - Mitch

floydtheater07 - Joe

fucklimits - Jack

<33